This article explains how to stream data from Singular to INCRMNTAL
For more information navigate to Singular integration documentation
Navigate to Settings > Manage Team > Create New User in your Singular Dashboard
You can choose the permissions for this user, based on the data you'd like to be pulled from Singular.


Insert the following email address to grant access to INCRMNTAL:

integrations+[COMPANYNAME]@incrmntal.com
(example: integrations+cocacola@incrmntal.com)


Select the Apps you would like to stream data for
If the created user has restricted permissions, choose on the following screen the data points you'd like to integrate with us



Select "API Keys" access under the "Settings" screen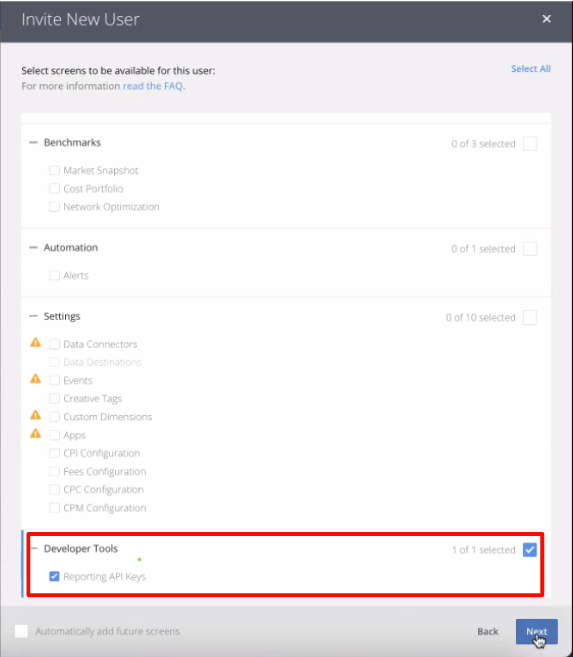 Once done, log into the INCRMTNAL dashboard and follow the steps to complete the integration:
Go to Configuration > Integrations

Click "Add Integration" on the right side
Search for the Singular icon by using the search bar. Click "Add".



If you've successfully added us as a user in Singular, as explained above, your authenticated user will appear on the Authentication dropdown on the right side. If the user doesn't appear right away or within a few minutes, contact us at support@incrmntal.com for further assistance.



Under "Add KPIs", choose the app you'd like to integrate with us.
Then, in each row, select the KPIs within this app that you'd like to integrate with us.
Note: If you integrate multiple apps with us, and all have the same KPIs, you can choose multiple applications in the app field for the same KPI.


When choosing a cohorted KPI, such as revenue or user engagement, you can choose the relevant events to be included under said KPI. For instance, when taking user engagement, you can take the data point you'd like to view (revenue or number of events).
Match the KPIs to the respectful ones in INCRMNTAL in the following manner (we can also assist with this, if needed):

Conversions - An upper-funnel event, to which other metrics are cohorted to e.g. user installed the app, user signed up to the website, user made an order).
Revenue - All revenues from the app, in a currency value.
Revenue Indication - Events that indicate revenue generation, such as "first deposit", in a numeral value.
User Engagement - An action a user was taking within the app, after their conversion point (e.g. user completed the basic tutorial after the installation of the game).

Cost - Ad spend for all channels for the app.

Once set, you can click "Preview" () on the right to view a sample of the pulled data.


Click "Save" once all the parameters have been defined.

For any question please contact onboarding@incrmntal.com , or open a support Ticket here